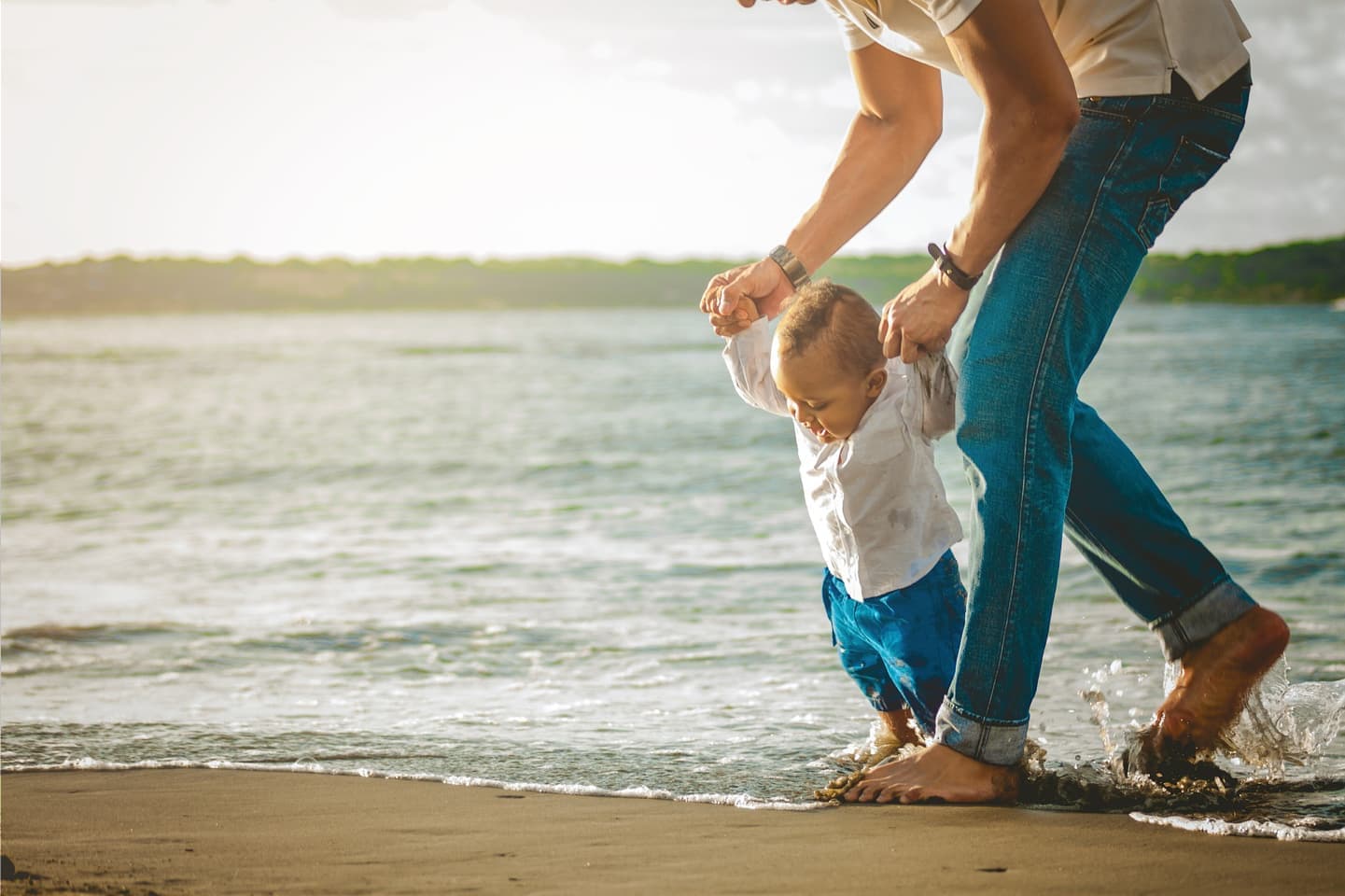 After getting through the mortgage application process you're so happy to get approval that you'll sign just about anything to seal the deal and get into your new home. Given that you're reading this, I'm guessing that you're savvier and won't get pressured into anything before having a good look around and comparing mortgage protection. Your problem then, can then be trying to decipher the difference between the policies offered by the many providers. Well fear not, we've got you covered when comparing mortgage protection.
Firstly, as a quick summary, Mortgage Protection is a form of life cover designed specifically to pay off a mortgage in the event of the life assureds death. The amount of cover on the policy decreases over the years so that there is sufficient cover in place at any one time to pay off the mortgage in the event of death. Essentially, it covers the bank so that they will get their money back if this were to happen. It also means that the family of the deceased will not be burdened with paying off the mortgage.
Generally, this policy is ideal but there may be circumstances where a different type of life policy might be more appropriate. Unlike Mortgage Protection, the cover provided by a Term Life Cover policy does not decrease. If unsure, have a quick read of our post on the topic here 'Do I need Mortgage Protection or Life Cover?'.
The Providers
As of 2020, there are 5 main providers, Irish Life, Aviva, Zurich, Royal London and New Ireland. Here we will take a look at what each insurer offers by way of cover and additional free and paid benefits with a summary table included to help you when comparing mortgage protection.
Firstly, all of the companies have common features in that they all give a maximum policy term of 40 years. All have a minimum term of 5 years apart from Aviva who have a minimum of 2 years.
All of the providers are now in line with each other when it comes to vaping or using electronic cigarettes in that you are now classified as a smoker unless you have stopped using these at least 12 months prior to application.
Really, in our opinion, cost is generally the main factor when taking out mortgage protection cover simply because they all do the same thing when it comes to the main and most important benefit, pay out when you die.
Saying this, if costs are equal as they often are due to some of the main providers price matching the lowest premium, other factors do come into play.
Some options are included at no additional cost by all providers but with some differences -
Free Features:
This is a free benefit that allows the policy owner to increase the cover on a policy at certain life changes. These include the birth of a child, a new mortgage and a marriage. On a mortgage protection policy, this will allow the policy holders to increase the cover amount on the policy in future if they were to move home and wanted to keep the policy. The real benefit here is that they will be able to do so without having to provide any further medical details for underwriting which is valuable in circumstances where a policyholder has developed a medical condition since the policy was first set up.
Four insurers are offering a similar benefit here in that they will allow an increase in cover of 50% of the original cover amount to a maximum of €100,000. Aviva restrict the increase to €40,000 and only offer the chance to do so when getting a new mortgage. They do, however, also allow you to increase the term of the policy to meet the requirements of a new mortgage.
Where the policy holder is unable to work due to accident or illness for a period of 13 weeks or more, the insurer will cease collection of premiums but continue cover until such time as you return to work. Only Zurich offer this benefit.
This benefit offers some cover to the applicant where they were to die between the time of submitting an application for cover and the time they receive an outcome. Cover is up to a maximum of €150,000 and this benefit is offered by all insurers apart from Royal London.
This allows for the life cover amount to be paid in advance of the death of the policyholder if they are diagnosed with a terminal illness.
All insurers offer this benefit but at various levels. This is normally offered as a percentage of life cover, often 5%, and capped at a specific figure. If a child of the policy holder were to die the insurer will pay a death benefit. Irish Life cap this at €7,000, Aviva, €5,000, New Ireland €4,000, Royal London €5,000 and Zurich do not offer any cover.
This benefit is valuable to someone who, whilst on cover, received a diagnosis of an illness. It provides a second medical opinion on the diagnosis and also on the treatment plan recommended to that person. The service is also provided to the insured persons extended family (children, spouse/partner, parents, spouse/partner's parents).
Aviva, Irish Life and Royal London all have offerings in this regard.
Aviva 'Best Doctors' benefit. Irish Life 'MedCare' benefit. Royal London 'Helping Hand' benefit.
Additional Paid Benefit
Unlike the others, this additional benefit does increase the premium a little but can be valuable in certain circumstances. It allows the policyholder to extend the cover without providing new medical information. You could also convert the policy from a reducing balance policy to a level term policy. This could be useful if you were to convert a mortgage to interest only and extend the mortgage term. You could then convert the existing policy to match the new requirements without the need to provide new medical information. This can be a complex area and it is advisable to get advice if considering this add on.
Offers from Insurers
At the time of writing, both Royal London and Aviva offer 'Dual Cover' for the same price as 'Joint Cover'. Where there are two individuals covered and both were to die during the term of the Dual policy, the cover amount would be paid out twice. On a Joint Cover policy the benefit is paid on the first death with cover then ceasing. This effectively gives double cover for the insured parties.
Discounts & Pricing
Many do, but some brokers do not offer the full discounts provided by the various insurers. These change from time to time and it is important that ensure you are getting the best deal.
For the purpose of this example all standard discounts available,as of today, are applied (as we always do).
Lets take a couple, Joe, aged 40 and Ciara aged 37, both non-smokers. They are taking out a new mortgage of €400,000 over 28 years. No additional benefits which increase cost have been added. The following are the results -

Comparing Mortgage Protection - Table of Comparison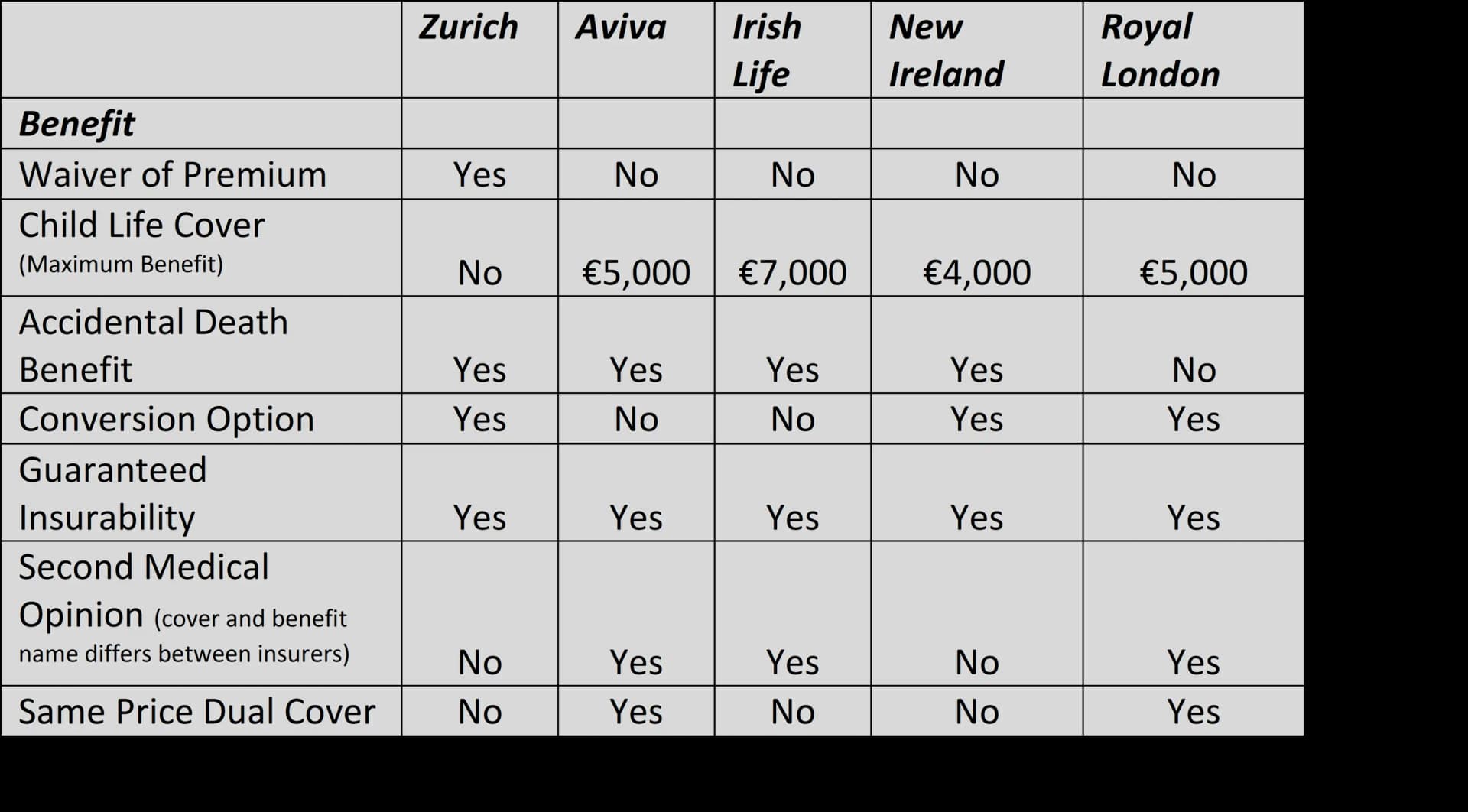 Summary
As you can see there are many differences between the providers and it depends on each individual's circumstances as to which benefits are most relevant when comparing mortgage protection. Saying this, all else being equal there are some stand out factors when choosing. Firstly, price is very important with most customers for obvious reasons. I consider the offering of Dual Cover for the same price as Joint Cover as being a very worthwhile addition. It effectively doubles the cover at no additional cost. The second medical opinion offering from Aviva, Irish Life and Royal London are also attractive free benefits.
It's important to note that if you have a pre-existing medical condition the above comparisons will not be as relevant. You should seek to find the insurer who will offer you the best outcome based on your medical details. It is important to seek help on this and we specialise in this area for customers.
If any of the above leads to further questions or indeed if you just want to have a chat around the topic of getting the best possible Mortgage Protection Cover to suit your circumstances drop me a mail on [email protected] or call me on 01 539 44 50. You can get a quote and compare for yourself here.
Regulated by the Central Bank Of Ireland no. 19006
Northstar Financial Planning Limited trading as QuoteLeader is regulated by the Central Bank Of Ireland no. 190060
*Average Cash-Back amount is based on average for all qualifying policies in 2022
Copyright 2023 - QuoteLeader | All Rights Reserved
Designed by seosolutions.ie